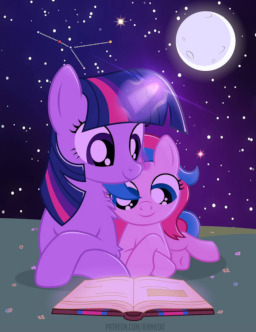 Stef thought he had it all, but after he woke up one day in the land of Equestria, that all changed.
Stranded in a forest with no friends and no hope in sight, he finds out quickly that he'll need help if he ever dreams of getting home. Thankfully, the Princess' top student is on the case! What will Twilight learn from her unlikely bond with this human? And could Stef learn that a life away from earth isn't so bad after all?
Takes place parallel to the show, with some stories overlapping with its episodes.
Edited by: Luckyfanisaac
Up to the chapter In my room and from after Making Real Friends and onward are Proofread and re-written by Bookish Velvet
Cover-art by JennieOo https://www.deviantart.com/jennieoo Check her out if you're interested in having your own fan-art made, I can highly recommend her.
Chapters (59)