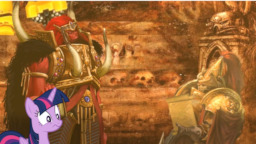 When Twilight first began her experiments in trying to figure out better ways to access the Aether, the realm of magic and souls just outside their physical realm, she did not expect to make significant progress. After all, pony kind has been trying to find out the answer to that line of thinking for centuries.
When she felt herself connect to the other realm Twilight accidentally manipulated its energies in a different sort of way. The Aether bent to her will much easier than before. Getting just a bit too excited, Twilight played with the Aether a tad too freely and the reality-bending powers of the outer realm sucked her into its bottomless depths.
Fortunately Twilight was able to direct herself back to the material realm using the closest, and brightest, soul she could find as an anchor. And the second she looked up at the skull of the skeleton sitting on top of a golden throne, she knew life was about to get more... interesting.
(A crossover with "If the Emperor had a Text-to-Speech Device")
Chapters (2)