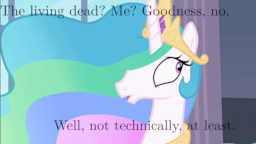 Twilight's had some time to think about what happened during the Tirek crisis, and now she has only one question on her mind:
Did Twilight get Celestia's immortality or not?
When she confronts her former mentor about it, she learns some interesting things about definitions, technicalities, and necromancy.
More importantly, she learns that even the greatest of ponies have their weaknesses.
A/N: Mostly TwiLestia friendshipping, and lots of headcanon. Also one or two cameos.
Chapters (1)