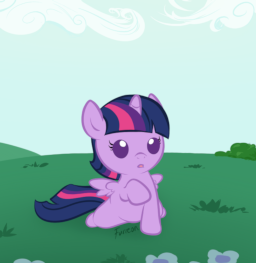 Source
A month after her coronation, Twilight Sparkle decides to try out a few new spells. When an age spell goes wrong, she ends up stuck as an alicorn filly. While she tries to find a solution to her dilemma, Twilight becomes dependent on Fluttershy and Pinkie Pie, who end up as her foalsitters, for better or worse. And the answer to her problems might well lie with one of Ponyville's most eccentric figures...
Note: This story features Alicorn Twilight, Doctor Whooves, age regression, and infantilism material.
Cover art by HopeaHam.
Chapters (18)