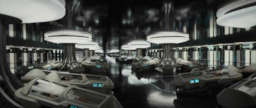 One million years ago, in the year 2017 A.D., humanity discovered two new types of radiation that were being emitted from an unknown region up in space. Using the Hubble space telescope, scientists were able to discover that the radiation was being emitted from an asteroid, which was on a direct collision path with Earth. 
These two newly discovered radiation types were dubbed Keifer's radiation (later nicknamed harmonic radiation) and Chaotic radiation. Keifer's radiation was found to be completely harmless to humans and animals, although it was later discovered that Keifer's radiation tended to be attracted to certain animals. Chaotic radiation, on the other hand, was found to be extremely harmful to humans in large amounts, causing fatal mutations to humans. 
The discovered asteroid was found to be over twice as big as the asteroid that wiped out the dinosaurs. In the year 2018, scientists predicted that the radiation was expected to reach fatal, critical levels by the year 2027. The asteroid itself was estimated to only crash into Earth one thousand years later, long after the rest of humanity would be wiped out by the lethal Chaotic radiation.
As a result of this, world leaders got together and began construction of Utopia, a large underground bunker, capable of housing four hundred thousand people, two thousand from each country. The chosen few were gathered together within Utopia and would be the last of humanity.
However, the radiation was estimated to have a half life of at least 1,000,000 years. This led world governments to invest heavily in suspended animation and cryogenic technology. And finally, in the year 2024, the first cryogenic pod was invented, capable of freezing someone for an infinite amount of time, without the need for sustenance, as long as there was a power supply.
Exactly one million years later, the humans reemerged to begin recolonisation... only to find several sentient species currently inhabiting the planet that they once had absolute, unchallenged authority over. 
One of them was humanity, which was able to recolonise and repopulate the planet from the few members of the human race that managed to survive the Second Flood, long before the Utopians woke up. But there was something wrong, humanity was being used as slaves by the ponies and several other species.
How will humanity answer to the fact that Planet Earth (now renamed Equus) is no longer theirs? Will they make peace with the locals, or will they attempt to wipe them off the face of the planet with their stockpile of nuclear weapons, that were there for the very purpose of reinstating human rule if another creature evolved to their level?
[Heavily inspired by the tv series The 100]
Featured from 19/7/21 to 23/7/21
Featured on 25/7/21
---
This is the old version of this story. The rebooted version is available here:
Chapters (36)