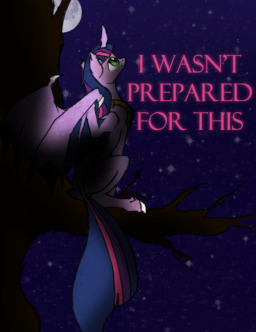 Source
This story, and the Kirin Chronicles as a whole, are being rewritten and published as a new story due to the size of the adjustments.
Part I of the Kirin Chronicles
-
It's Twilight Sparkle's coronation day. She's ready to go, all dolled up by Rarity, and the three Princesses await her okay on the spell. She nods. Their horns light, and a deep warmth spreads through her. She closes her eyes.
"Nn- Twilight!"
Her eyes open. Spike, running towards her. His claw brushes the magical aura surrounding her. A roll of thunder echoes, and he is thrown against the wall. The magic surrounding her rises in turmoil, battering and burning, and it's all she can do to stay awake. It ends with a snap, dropping her to the plush ground in a heap. The Princesses are crying, Spike is unconscious, and Twilight... Twilight is no longer a petty Unicorn.
But she's not much of an Alicorn either.
---
Initially featured from February 8th, 2013 - February 11th, 2013.
Part II of the Kirin Chronicles
Part III of the Kirin Chronicles
--------------------------------
** This story was written when I was 15, and the quality and content reflect that. Please be aware that my position on topics contained within may have changed in the time between publishing and now, and I apologize for any offensive material that I may have condoned in my younger years. **
Chapters (11)