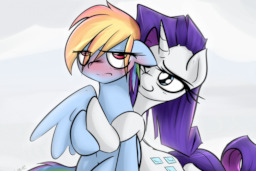 Source
Rarity and Rainbow Dash are about as in love as two ponies can be. Every once in a while, they do something utterly exciting and amazing. Between those moments, they live their lives just like any other couple does. These are some of those between times.
Basically, when a little idea for a Raridash scene comes to mind, I'll be adding to this. Updates will come whenever something comes to mind.
Rated teen for occasional saucy material. Largely inspired by a wonderful little tumblr called Raridash Doodles.
Chapters (5)