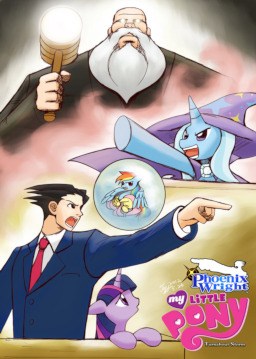 Source
NOTICE: This is an unofficial and highly expanded story adaptation of the "PWaaMLPfim" Youtube Video Series: Phoenix Wright / My Little Pony FIM - Turnabout Storm! The videos came first, NOT this story!!!!
A quiet summer night in Ponyville takes a violent turn when two pegasus ponies enter the Everfree Forest and only one comes out alive, leaving the second accused of murder, on trial for her life. Ace Attorney Phoenix Wright finds himself dragged from his own world, magically summoned to Equestria by Twilight Sparkle to defend Rainbow Dash from charges of killing Ace Swift, a superstar pegasus athlete and champion racer.
Trapped in an unfamiliar world ruled by magical talking ponies, Phoenix must draw on all his wits and experience to solve the crime and uncover the conspiracy behind it... before Rainbow Dash is banished to the sun for a murder she didn't commit.
---
Parts 1-43 written by RavenRegios, and edited by Firesight. Parts 38, 42, and 44-epilogue written by Firesight with additional input and prereads from TheGoldCrow, AJ_Aficionado, and Leo Archon.
Chapters (68)