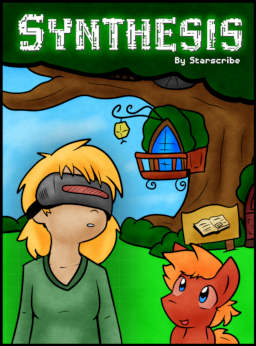 Source
This story is a sequel to Convergence
---
Equestria was just a game, one of an endless number of semi-illicit online games created to take advantage of the ubiquity of cheap augmented reality hardware. But that changed, when for no reason anyone knows, the virtual population of Equestria woke up.
Two decades have gone by since then, and the world has been transformed. The former game network has grown to encompass the backbone of trade, infrastructure, and research the western world over. Its vast computational resources have given rise to an infinitely subdivided world of overlays and sublayers, coterminous with the various cities and towns within Equestria. Every person in the modern world is assigned a Synth, a pony personal assistant that adapts to their needs and helps them access those parts of the world governed by Equestria's systems.
It is a world Dakota barely remembers, thanks to an automobile accident that turned most of her body to mush. But thanks to the medical miracles created by joint equestrian-human research, her life is saved by a remarkably new series of implants.
But Dakota isn't content to sit around while her body slowly knits itself together. There are unanswered questions to answer, questions that will ultimately lead her to the oldest mystery of both worlds.
Updates every Saturday.
---
Sponsored on Patreon by the Illustrious Canary in a Coal Mine. Editing by Two Bit and Sparktail. Cover by Zutcha.
This isn't part of the Optimalverse, or any other established fan-universe.
Chapters (23)