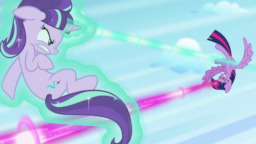 Source
This story takes place during the Season Five finale, "The Cutie Re-Mark". As such, there are spoilers ahead.
---
Starlight Glimmer's plan is working. All she has to do is upset Rainbow Dash's rainboom-creating race in the past, and Twilight Sparkle's connection with her friends will be severed. And she's done it. Repeatedly. Sure, Twilight can go back in time to try and stop her, but Starlight will always be brought back as well. No matter what Twilight tries, no matter how many times she returns, she can't stop Starlight. They're evenly-matched, and it's much easier to disrupt events than it is to preserve them.
That means Starlight wins, right?
Chapters (5)