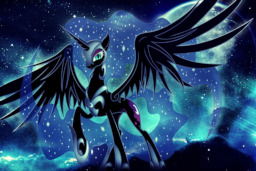 In a desperate attempt to escape the Elements cleansing light, the Nightmare found herself drifting in the void between dimensions after a failed blind teleportation. For how long she remained there she did not know, until, finally, a chance to escape appeared as a strange Shard pierced through the void heading to an unknown destination. Unwilling to let such an opportunity pass, the Nightmare fused herself with it.
On Earth Bet, Taylor Hebert was experiencing what could rightfully be called the worst day of her life, before suddenly discovering that she now possessed strange powers, right alongside an odd megalomaniacal voice in the back of her mind.
---
This is a MLP:FiM x Worm crossover, in which in an attempt to escape the effects of the Elements the Nightmare abandoned Luna and ended up lost in the void between dimensions. Where she then proceeded to hijack the Queen Administrator Shard and so ended up as Taylor's power. Meaning that Taylor now has all the powers of the Queen of the Night, up to and including a voice in her head that thinks that World Domination is a perfectly acceptable life goal.
So let's see how Earth Bet will deal with the Queen of Escalation and the Queen of the Night joining forces, shall we?
Beta Reader: The amazing Emtu!
Featured!: 09/25/2021 - 09/27/2021
Chapters (3)