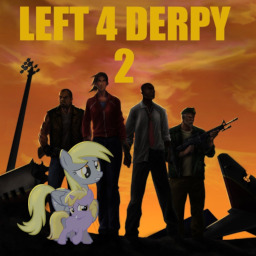 Source
It has been months after Ditzy's return from the zombie infested Earth, and all has been well in her life. ...Until now.
Once again she finds herself thrown into the cruel and horrific zombie apocalypse, however this time someone came with her. Now she must once again face the horrors of the apocalypse alongside friends, family, and newcomers, all while fighting to survive and find a way back home. But with endless hordes of infected, and even the military in her way, will she be able to make it back, much less survive?
For those of you who dont know, this is a direct sequel to Left 4 Derpy. Give it a looksy if you'd like to read and/or know more.
Fecler~ Its finally here guys! Hope ya'll enjoy. (Luna knows, you sure have been asking for it.)

(proofread by TheYellowBro and Zaponator)
(special thanks to SteampunkBrony for assisting with the cover image)
Chapters (3)