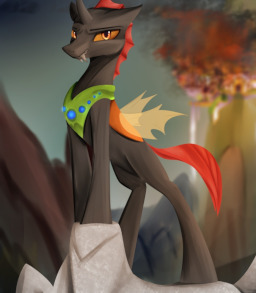 In the beginning, The Great Weaver brought together the world, from the mountains to the forests. Stitching it together, the Great Tapestry connects all living and nonliving things.
The Changelings found themselves especially connected to this Tapestry. Legend says that the first Changelings fell through the world as it was woven together, only to be caught on the First Weave beneath it all.
But what happens when something else is caught in the Weave?
Prince Phasmatodea, son of Queen Chrysalis, remembers what it was like before he hatched. He remembers being a human. He remembers dying. And he fully intends on avoiding another death.
But being gifted a new life does not matter when one failure, one false step, will lead to your untimely demise in the Changeling hive, for Prince Phasma must survive his toughest adversary from the start: Mother Dearest.
---
Cover art as of 1/18/21 by Nixworld
Chapters (151)