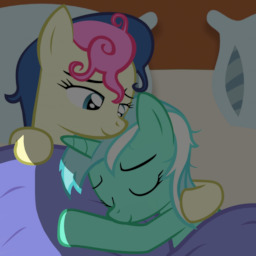 Lyra keeps finging.  Whatever that is. Bonbon just wants sleep.  Love shouldn't be this hard.
—∫—∫—∫—∫—∫—
Thanks to my pre-readers Lingo and Fillyfoolish, to Sockpuppet for feedback on titles and descriptions, and to JackRipper for asking me what my jumbled slang meant. The strangest things inspire me.
Content Warning: serious discussion about mental health.
Art by Mundschenk85 cc-by-nc-3.0.
Chapters (1)