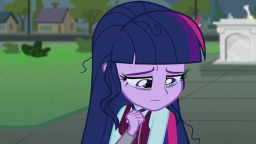 While Twilight was in her bedroom at her house, she stumbled upon a strange vial of green liquid.
Then, she drinks the strange liquid and gets stressed over some past memories of Crystal Prep.
And she's mad that former principal of Crystal Prep, Abacus Cinch, is now the new dean. This makes Twilight so mad there will be some funny parts that she would love to do to get back at her. After all, Cinch did keep on forcing her to compete and spy on the Rainbooms, as well as unleashing the magic that turned her into Midnight Sparkle. But what is going on with her anger?
Despite the tags, Twilight is the 1st main character.
Chapters (18)