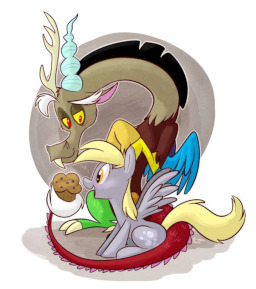 Source
You meet all kinds of ponies delivering the mail. Some are nice, some are angry that their package is two days late, soggy, yet inexplicably on fire. Then there are those that you meet, and you just know that they're going to change your life forever. 
Dearest Heart, a.k.a. Muffin (to her friends), a.k.a. Derpy Hooves (to slightly less good but still good friends) just delivered a package to everyone's favorite Draconequus, and nothing will ever be the same again.
Inspired by a conversation with Technitrose! Thanks to them and Steel Resolve ,Nova Quill/Firimil, and TheGreatEater for their edits and suggestions.
Wonderful cover art by TheDoggyGal.
Chapters (3)