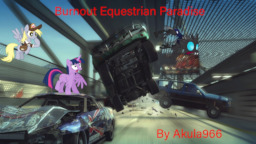 3 days ago, in the middle of Ponyville, a mysterious portal appeared in the town square. Nopony knew how it got there, and a few wondered what was on the other side of the portal...
...and 1 day ago, Princess Twilight Sparkle received a letter from Princess Celestia that, according to Mayor Mare, her friends have gone missing, and both Mayor and Celestia know that they dissapeared into the portal. Twilight suspects that her friends have run into danger by exploring the strange portal, and packs up her and Spike's gear, and enters the portal...
...Upon emerging on the other side of the portal, she discovers that she is, once again, in the human world. However, she still in her pony form and not a human. Then, Rainbow Dash pulls up in a car, opens the passenger door and the journey begins...
---
NOTE: I just recently got Burnout Paradise for my XBOX 360, so I decided to create a fanfic about it, involving the ponies, racing and crazy, metal-twisting crashes!!!!!! I hope you enjoy it!
If you have never played Burnout Paradise, or ANY of the previous Burnout games, I highly suggest you do! It should give you a good idea on what the series is about, and what you might expect in the story.
Update: Added a new title page, that I custom made with the use of Photoshop!

The Twilight, Derpy and Changeling vectors belong to MLP-Vector Club
Burnout Paradise picture belongs to the Burnout FANDOM Wiki
Chapters (17)