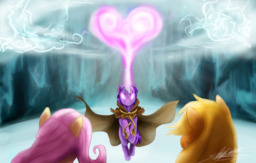 Source
What if a fan of My Little Pony was suddenly sent to the world of the show, before Equestria was even founded? In an attempt to get home and survive tribal pony society, Astraeus must enlist the help of the royal sisters before they've ascended.
Can he return to his family without permanently ruining the sisters' future and that of all of Equestria? And will he be able to resist using his knowledge of both the show and modern technology to help his new allies?
---
Special thanks to PeerImagination for being an amazing editor. You rock!
Cover by slifertheskydragon.
Chapters (10)