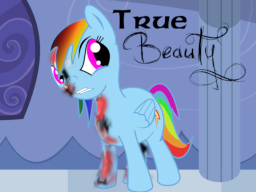 Rainbow Dash saved Spike from a dragon attack--and paid for it dearly. Now she's severely scarred on one half of her body, in constant pain, and unable to fly, and she becomes a recluse in her own house. Spike feels guilty but helpless, and recent ex-marefriend Applejack is determined to get her out of her house and back to normal.
But when you take everything away from a pony, how can you expect her to ever be normal again?
Special thanks to DbzOrDie for ideas for, support of, and general pestering until the completion of this story.
Chapters (11)