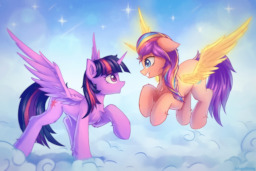 Source
When an ancient Equestrian artifact suddenly tears a hole in time and space, Sunny Starscout gets the chance to meet her idol, Twilight Sparkle, for real! However, not only is Twilight shocked by the changes to the Equestria she loves, but Opaline's ever-present eyes see this as an opportunity to undo her defeat at Twilight's hooves. Twilight and Sunny must find a way to stop the mad alicorn if Equestria is to remain stable.
---
G4/G5 crossover.
Timeline: Pre-season 9 of FiM, post G5 holiday special.
My 40th pony fic!
Coverart by Adagiostring.
Chapters (16)