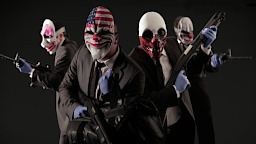 Compared to their past heists, this one was going rather badly. It takes an armored truck being driven by their "handler" to get the crew out of this one. But before they could celebrate yet another pile of money in their possession, one of the strangest things happens...
While all of the politicians, scientists, and the military are worrying about the portals that opened up to some kind of alternate dimension, the crew blends in with the crowds of people coming to this world full of "ponies".
But of course, the allure of more heists presents itself even here...
So it's time to load up and grab your mask. It's payday.
Ignores the season 3 finale, and as such the entirety of season 4
Chapters (34)