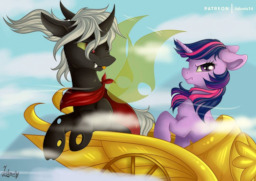 Source
When Princess Celestia finds a young nymph in a basket floating down the river, she decides to take him in as her son. As the years go by, She decides that her beloved son and her star student needs to learn an essential part of life. Making friends.
So she sends them to Ponyville, in hopes that they learn about the importance of friendship.
Bandit and Chad belongs to Me
Lightning Sprint belongs to Lightning Sprint
Art by the Awesome Julunis14
I hope you enjoy.
Chapters (30)