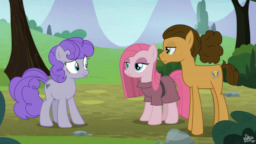 Source
Maudie Pie can't get over her younger sister's colorless coltfriend. Even more worrisome is this isn't the first divide between herself and stoic little Pinkamena.
Is Maudie out of touch? Or is her flighty anxiety just acting up again? The best advice would come from a theoretical pony who thinks like Mena but acts like Maudie.
Good thing some sisterly bonds can hop between realities.
---
This is an entry in the Snippet Series, an anthology of old oneshots that I (and my good buddy Str8aura) wrote based around interesting pics I found. New ones will be posted every other Thursday for the foreseeable future.
Chapters (1)