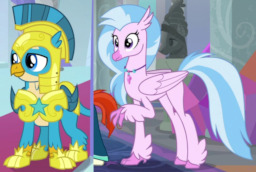 Source
(A stand alone sequel to Gallus' Guard Training. Familiarity with that story is encouraged but not required for you to understand this one. Indirectly based on the song "Don't Give Your Love Away".)
Gallus has risen through the ranks of Equestria's royal guard quite fast, surprising almost everyone with his dedication. But his dedication to his adopted home country is about to be put to the ultimate test.
War unexpectedly breaks out between Equestria and forces claiming to belong to the real Emperor Grogar. Gallus is part of a unit that is to be deployed to the front lines to fight, which poses a problem when he's just coming off a successful proposal to Silverstream.
Silverstream doesn't want to see the love of her life to go off to war, fearful that he will never return. Gallus, however, has already made up his mind. Yet before he leaves, he decides to offer up some words of encouragement to the love of his life.
Chapters (1)