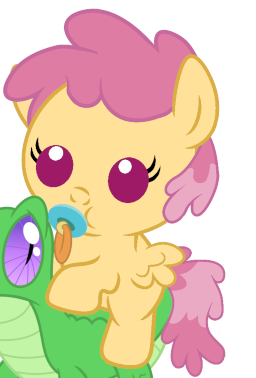 Source
(Warning!: This fic has been rated Teen as a precaution, as it will contain diapers and diaper useage. Please read with discretion, or click elsewhere if it's outside your comfort zone. Thank you.)
Scootaloo loves her mother, she really does. She just wishes her mom would stop treating her like a baby all the time, especially now that she has her cutie mark.
Then, one day, Scootaloo accidentally brings home the wrong saddlebag from Twilight Time. And when Dizzy Twister goes to return it, a mishap ensues and the potion inside turns her into a foal. Luckily, Scootaloo soon finds out.
But now Scootaloo must care for her foalified mother, until a cure can be found. And even though she has the help of her friend, Diamond Tiara, Scootaloo is about to discover just how much responsibility comes with taking care of a baby.
Will Scootaloo and Diamond Tiara be able to keep the foalish Dizzy Twister under control? And will Scootaloo be able to find a cure before her father comes home?
(Dedicated to Matt11. Proofread and editied by deadpansnarker.)
Chapters (1)