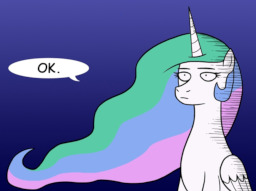 Source
Twilight is fed up having to take care of every threat to Equestria.
Especially since she is way too smart NOT to notice the discrepancy between Celestia's so called 'defeats' and the actual power she knows her mentor possesses.
Therefore, Twilight decides to kick Celestia's royal butt (figuratively) into dealing with all the villains herself again.
After all, the Princess of Friendship deserves some vacation, too.
---
This is not really a crossover (therefore no tag), nor a ponification.
But I honestly think, that Saitama and Celestia share at least one similarity... when she wants to, that is.
Warning: Contains obvious fanboying and an accurately powered Celestia

---
Very special thanks to DracoBlair for his thorough help with many details!
Please visit his DeviantArt-page: https://www.deviantart.com/dracoblair
AND also very special thanks to EquestriaStories vor his opinion and constructive criticism!
Please visit his DeviantArt-page, too: https://www.deviantart.com/estories
(Also my sincere apologies to EStories for not putting this credit here right from the beginning

)
Chapters (12)