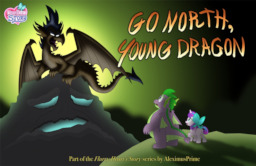 This story is a sequel to Flurry Heart's Story: Fillie Jean
---
After receiving some exciting news, Spike, Flurry Heart and her friends venture off to Nordo Dracos, where they find the Northern Drakes. These large, lovable dragons are ruled by a mighty king and live under the watchful eye of the mystical, living mountain: His Elevated Eminence. Will Spike finally get answers to where his family has been this entire time? He may get much more than what he bargained for!
Inspired by the official show, this is part of a fan-made sequel series I created called "Flurry Heart's Story", which documents the adventures of Flurry Heart as she makes friends and faces new and familiar villains, some of which may still be redeemable.
Next story: Oh Mother, Where Art Thou? (coming soon!)
Flurry Heart's Story and its author are in no way associated with Hasbro or any of the creative team behind My Little Pony: Friendship is Magic. This series is entirely fan-made and is created in honor of the official show. No copyright infringement is intended or encouraged. Please support the official release.
Chapters (5)