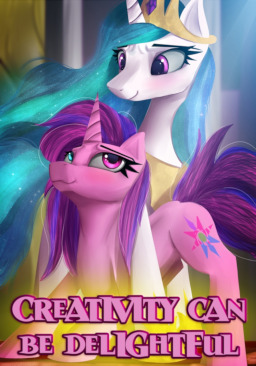 A 21-year-old guy with a creative mind who wishes for a better life. a pony that wishes for something more in her life that she feels she has lost. There, two strong wishes somewhere somehow clash each other and a miracle is born. It is the start of a hold new life for once a man and a soon-to-be mother. With the wonders as well as the storms that come with it. Does the man get the family he needs to mend the wounds from his past life as well as hold in the secret that he is more than what he is while unlocking new potential? can she gain happiness in these sad times while trying her best, to be a teacher, a ruler, and now a mother?
The story focuses a little on domestic abuse as well as bullying but only a little in the beginning. as well as small hick-ups along the way, I will not go into high detail about the subject but there will be problems later on.
Any feedback and criticism are welcome.
Genres and age rating may change in the future.
I own all the rights to the picture. It was made by
NixWorld
a amazing artist.
Chapters (9)