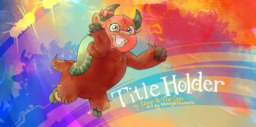 "Fight like a title holder,/Stand like a champion,/Live like a warrior,/And never let 'em break you down!" -The Interrupters, 'Title Holder'
A new masked wrestler is capturing the attention and the hearts of the audience in Ponyville Extreme Wrestling. She's powerful, skilled, popular, and....a yak? Behind the mask is Yona, the beloved yak of the School of Friendship. However, Yona is starting to worry that her passion for smashing in the wrestling ring might not sit well with the school or her friends.
---
Cover art drawn by MidnightPremiere on Twitter.
Chapters (8)