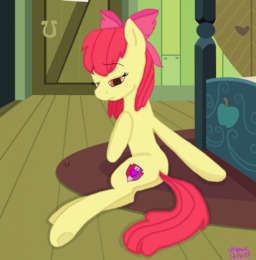 Apple Bloom is a pony you've spent most of your time with and come to view as a little sister. That being said, you've watched her grow up from a playful and adventurous little filly into the independent mare she is today. You've seen her relish in her moments of triumph following earning her cutie mark and you've seen her at some of the lowest points in her life when she needed somebody to be there for her.
You've always been there for her when she needed that shoulder to lean on, as rare as that event takes place, but you know she requires you to be there when she comes home in a bruised and battered mess after spending time with her coltfriend. Learning what he had done to her, you take it upon yourself to show this stallion what happens when they hurt your little sister.
===================
WARNING: Before reading, understand that this is a non-consensual fic and involves some heavy stuff and a topic I never write for due to personal reasons. It hurt to write this.
Does NOT contain any sexual scenes, but is clearly stated what happened, so is Teen rated.
====================
FEATURED (briefly) 04/10/2020...twice.
05/10/2020
06/10/2020
07/10/2020
====================
Cover art credit: https://www.deviantart.com/lady-jay-bird/art/Sad-Apple-Bloom-576628860
Chapters (1)