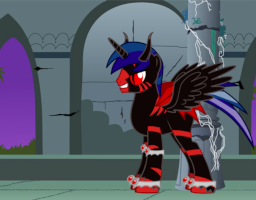 Should the powerful and sexy alicorn Dark Demon King Ravenblood Nightblade follow his destiny as savior of Equestria, or his love of interior design?
Why not both?
BASED ON AN ORIGINAL CHARACTER BY DEVICE HERETIC!!! This is my first alicron Mary Sue self-insert fic, so plz b nice. Maybe Ill write moar if ppl like it
Reading by AShadowOfCygnus!
On EQD Oct. 20, 2012.
Chapters (2)