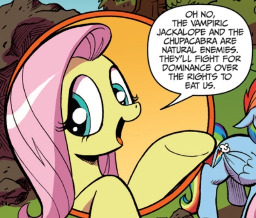 "Oh, um, hello. As you know, I am Fluttershy and I teach kindness.
The key to being kind to everycreature is knowing what every creature needs. So in this class I will be introducing you to the many creatures we share our world with, and how they live."
Rated T for potential discussion about predation, parasitism, reproduction, and other fascinating things animals do.
---
Has a badly neglected Twitter account with a similar premise.
Chapters (9)