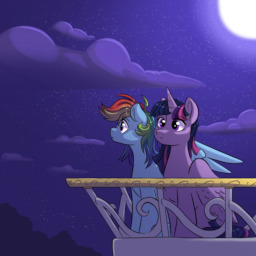 It should have been the happiest day of her life. Despite all odds, Twilight passed the entrance exam to Princess Celestia's School for Gifted Unicorns. Not only that, but she also got asked to be the Princess's personal protege. And if that wasn't already amazing enough, she even got her cutie mark! So why wasn't the filly prancing around in circles shouting "Yes, Yes, Yes" over and over again?
Being the victim of an uncontrolled surge did not only grant her enough magic to give life to a dragon but apparently also made it possible for her to get glimpses of her future, showing her a destiny she really does not care for. So, knowing where her current path would lead her, there is really no sensible alternative than throwing everything away and changing her destiny to one she can agree to, setting her up for a life of intrigue and adventure, uncovering the many mysteries surrounding her and a certain pegasus, to find out who they really are.
Unfortunately, in doing so, she ruins the carefully laid out plans a certain Princess of the Sun had drawn up. But knowing the forgiving nature of Celestia, there is no way that could lead to conflict, right?
Huge thanks to the amazing Mutter_Butter for the cover image and to the amazing LastToTheParty, for becoming my proofreader/editor.
Chapters (27)