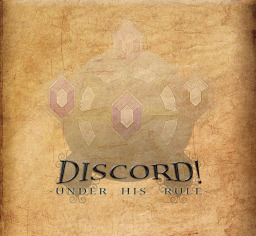 This story is a prequel to The Draconequus' Song. It will soon be rewritten. Archive chapters will be kept.
---
Out of destruction comes new creation.
In the beginning, the Magi created the earth. These ancient beings consisted of the first alicorns and the first draconequus, their roles being to create, destroy and renew the land. However, the draconequus eventually rose against the Magi, and they were forced to eliminate them.
But not all of them.
Early in the Princess' rule over the Everfree Forest, a creature appears. The last draconequus, Discord, with one fell swoop, throws the land into disharmony, and force the Princesses to abdicate the throne. But they stumble upon one unicorn, who may either help their cause or cease it, for his memory is gone, and his loyalty may waver.
Rated Teen:
Mild Gore
Violence
---
Big thanks to ParaducksSpace for helping me out with the setting and such! You can find her on Archiveofourown by clicking on this sentence.
Chapters (4)