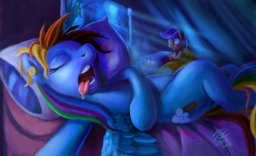 Source
Have you ever woken up as a vegetarian cartoon pony? I have, and she won't shut up about it. I'm stuck in her body as our minds swap control and our memories blur. I can't seem to do anything right, and it's even worse when she's in charge.
Now, we're in a back and forth war for control of her body. I just want to eat meat again, and have a little personal space. She's convinced I'm hitting on her friends and trying to score. I'm not sure I can survive the rest of the day, let alone until we fix this.
Edits by: Selbi, Abcron, Breath of Plagues, Refro, Jaestring, The Parasprite, Starbound Gurren
Pre-read by: SkeeterTL, Solidfire, Penjacker, TypewriterError, Pearple Prose
(It took all of them to corral my insanity.)
Cover art by Tsitra360
V1.1-Rated teen sex for strong innuendo.
V1.2-Pinkie Pie now enforcing RIAA guidelines.
Chapters (18)