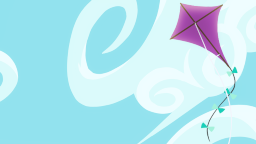 In some ways, every Bearer is a partial reflection of every other. Fluttershy can lecture, Pinkie is prone to overwork, Applejack has wound up lost in research, and Twilight's been known to hide under the occasional couch. But when it comes to Rarity and Rainbow... that's where the connection seems to be the most tenuous. They're each part of the same sextet and to outside observers, that's about it.
That little detour through the kite flying area means Rainbow isn't going anywhere for a few hours. Rarity refuses to abandon her relaxation site. And with the two mares stuck with each other, they're going to talk about how they have absolutely no commonalities whatsoever.
They're nothing alike, except for the one way in which they're exactly the same.
(Part of the Triptych Continuum, which has its own TVTropes page and FIMFiction group: new members and trope edits welcome. While this story does reference previous events, it can generally be treated as a stand-alone: no other reading is required.)
Now with author Patreon and Ko-Fi pages.
Cover art taken from an image by White Quartz, cropped by Dawnbreez.
Chapters (1)