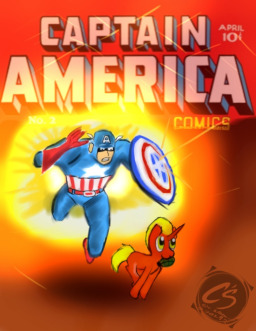 Captain Steve Rodgers was on his way to becoming America's greatest hero. Throughout the course of the second World War, he has been working his way across Europe, the Mediterranean, and Northern Africa, destroying every last Hydra base created by his dark counterpart: Johann Schmitt. More infamously known as The Red Skull.
Until one day, he discovers an adorable explosive package in one of Hydra's labs that will change the course of his life in the war and his life in the future forever.
For the first time in his life, he will have something more precious than his country to fight for...
(Inspired by Tatsurou's PWNY-verse fan fiction
series)
(cover art by Khunis Genie Pony)
(This fan fic is dedicated to Josh Scorcher, AKA Commander Firebrand and The Fiery Joker on Youtube, who is the subject of this fic)
(Because of some confusion people have had, this story takes place during the events of the movie Captain America: The First Avenger and the game Captain America: Super Soldier)
I appreciate anyone who provides me with editing, proofreading, or grammar tips that might help my story.
Major edits:
1/29/20
UPDATE: I am revamping 12 chapters to clean up the flow of the story and removing a plot element.
Chapters (47)