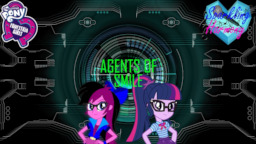 This story is a sequel to Sparkling Harmony EQG: Agents of SMILE: Prologue
---
Sparkler's the new girl at Canterlot High. When you have a reputation as the greatest secret agent the world has ever scene, starting a new school shouldn't be scary at all, especially when you already have friends at said new school.
That's exactly what Sparkler thought, right up until she finally meets Twilight Sparkle, the last remaining member of the spectacular seven that she had yet to meet. Once that happens, Sparkler is hit with something possibly more dangerous than anything she's come up against as a secret agent...LOVE!
How will SMILE's best agent navigate the waters that is high school romance? One thing's for sure, she doesn't need to do it alone.
Right Sunset...Sunset?
If this story gets 25 likes I'll add to Sparkling Storytime
Chapters (4)