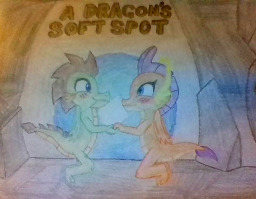 Smolder has been sneaking through the School of Friendship, getting wondering looks from her friends and her teachers. Then one night, when Smolder thought that everyone was asleep, Smolder's friends, Starlight, Rainbow Dash, Rarity, Fluttershy, Applejack and Pinkie Pie followed Smolder to the catacombs, where they find Smolder with another dragon. And to surprise them all, the dragon she's with was once a human boy named Aaron Blazer.
The group wanted to know how Aaron got to Equestria in the first place. And they even wanted to know why Smolder was keeping Aaron hidden from her friends and the teachers. And, eventually, they're gonna have to find a way to get Aaron back to his home before his family starts to worry. They contacted new High Princess, Twilight Sparkle, to see if they can find a way to get Aaron back to his world.
But it would take time for Twilight to find the right spell to send Aaron home, so Smolder spent as much time with Aaron, trying to teach him how to fly like a dragon, and avoid causing fire damage with the fire breath he now has. And maybe, the two hang out.
Chapters (23)