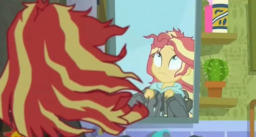 Sunset Shimmer is a pony, so she likes pony things. Granted, a nice hayburger isn't exactly easy to come by in the human world, but that shouldn't stop her from using the products she's used to from Equestria, right?
Well, her humans friends might disagree, as Rarity does when finds a rather odd bottle of shampoo in Sunset's bathroom.
A short little story inspired by the Equestria Girls Monday Blue music video and my fellow fans of Sunset Shimmer, especially RileyAV, who noticed a peculiar bottle on Sunset's shelves in the last music video.
Chapters (1)