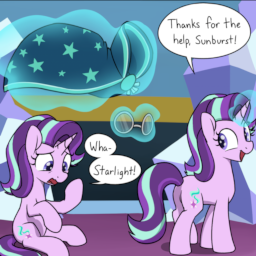 Source
Starlight Glimmer is mastering the power of transformation and has been taking studies with twilight. However, during her stay, she also set up a date with modeling dresses for Rarity and is now in a predicament of needing to be in two places at once. But that doesn't stop her from coming up with an interesting solution by transforming Sunburst into a copy of herself. But without realizing the modeling job was a bit more then what Sunburst anticipated...
The cover art artist and source: Skitter
Note: there is Boob inflation and sexual innuendo throughout. But this isn't clop.
Chapters (1)