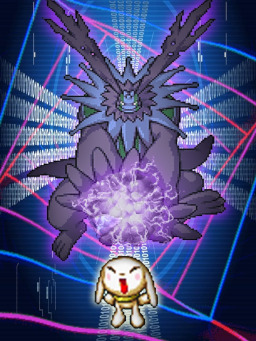 Jim Summers was a normal 14 years old school student, until one day when he was coming back home from school with his 8 years old little sister, Lizzie Summers, both of them got struck by a lighting.
When the siblings woke up they discovered that their bodies have change and that they where not anymore in their world, but now they where in Equestria. together they must find the way to return to their world and turn their bodies back to normal, but will the inhabitants of Equestria become their allies or enemies?
---
This was inspired by jsk244 story The Black Digi-Knight
The first story that I post here, I have already post the spanish version on fanfiction and now I decide to try to make the translated version here.
I said it before, but this is only for fun, I will try to make the work the most decent way I can do(of course, english is not my mother language so I will do the best I can), I will fix any mistake I do in time. having said that, enjoy it

Chapters (9)