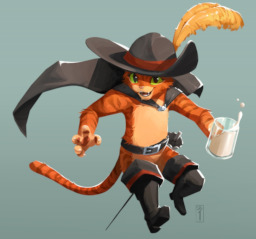 Source
~A Puss in Boots: The Last Wish and MLP crossover~
This is a sequel to the movie so there will be spoilers for it, you've been warned.
---
Puss staved off Death, his relationship with Kitty has never been better, and he's got a new friend in Perrito! Nothing should have gone wrong, but an old enemy and a few new ones have come seeking power. Power that threatens Puss and those he loves. To help defeat these foes and protect the ones he cares for Puss will have to travel far and wide in search of new and powerful allies. It's just his luck then that he happens to come across a gateway to another dimension. A dimension in which Puss will find six unlikely heroes. The question is will they arrive in time, or will their help come just a little too late? Can the legend beat the odds and save his friends? How did these two worlds collide? What is the Philosopher's Stone? And what is that ominous whistling, it sounds so familiar...
---
Hey thank you for the features! Featured on 1/28/23, 1/29/23, and 1/30/23
Loved the movie so much! Seen it in theaters three times all ready, so good! Definitely my second favorite movie of all time. Didn't see a full-blown crossover with it on here yet, so here's my crack at it. I hope you enjoy!
More tags will be added as the story progresses. I don't want to spoil it through the tags you know.
Chapters (2)