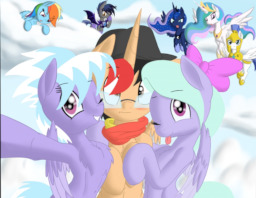 (This Fic has a sequel, or a continuation as you like.)
Have you ever imagined that one day you would wake up in a strange new world in an even stranger new body? Well I never have but it still happened and now I am running around in my OC's body in a land I thought was nothing more than a silly children's cartoon.
Well here I am…in the land where friendship is supposedly magic as an alicorn no less, staying with the two pegasi sisters while trying to make sense of my situation and keeping my whole alicorn appearance a secret…especially from the OTHER two alicorn's. God knows what happens when these ponies find out what I really am...Both now and what i used to be.
Hopefully, one day…all of this will make sense and let's just hope I don't cause too much chaos while trying to find answers and trying to find a way back home.
(STORY GOT FEATURED IN 25/7/2016

)
(This story was somewhat inspired by "The Third Roommate" and "Fleeting Flames" but will still have its own nature, style and obviously plot. Also big thank you to WrittenWord333 for helping me figure out the plot for this story.)
(Cover art by me.)
Chapters (27)