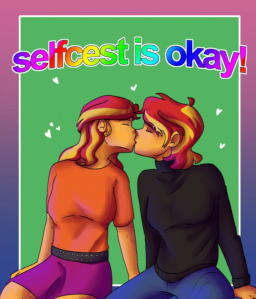 This story is a sequel to Shards of Incongruence
---
A couple of months after meeting her human counterpart, they continue to spend time together doing totally innocent things like kissing and cuddling and also not so innocent things like... holding hands. It's been going great, so Sunset finally introduces her to her friends. As her girlfriend. It goes pretty much as well as she was expecting it to. How often do you get to tell your friends that you're dating yourself, anyway?
---
Thanks to Bike for helping me with the short desc and the name honestly this fic goes out to you!
Cover art commissioned by Bike and drawn by me lmfao.
Sex tag for a fair amount of suggestive jokes, and profanity tag because they hecking swear!!!
Chapters (2)