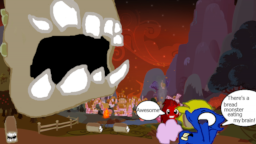 Equestria has been invaded by aliens! And not just any alien, but great big space monsters made out of bread! With her friends incapacitated by these twisted fiends, Princess Twilight Sparkle enlists the help of a top-secret service that had been recently founded (as in they were literally founded today) after the (second) dissolution of S.M.I.L.E.
The Bureau Of Oddly Behaving Spies!
Rated T because I don't think I could get away with an acronym spelling "boobs" in an E rated fic.

Chapters (3)