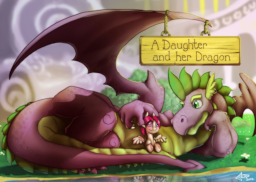 Source
Spike longed for years to have a family of his own. With Twilight's help, he applies for adoption.
Can he succeed in the trials of parenthood?
Can his daughter survive the life of royalty?
Can the royal coffers endure the doting of three zealous aunts?
Set seventy years after the end of Season 3.
---
Originally written by Crystal Moose and edited by me, I have officially adopted the story and continued where he left off. (Shahrazad has taken over the position of Editor, while Crystal Moose has stayed on as a consulting co-author). See here for details.
---
*Note*: [Sex] tag added for the use of innuendo and mention of the topic in later chapters. No 'on-screen' content included.
---
Cover art by EZTP (Featured on Equestria Daily! [#3])
Additional supplemental art provided by MelonDraws, spokenmind93, EZTP, and EifieChan, with more to come in the future.
Story itself also featured on Equestria Daily!
---
This story's update schedule is incredibly sporadic, but I promise, no matter what happens, no matter how long it takes, I will not let this story die.
SPOILERS IN THE COMMENTS!
Chapters (53)