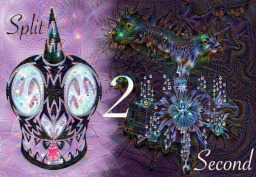 Source
This story is a sequel to Split Second
---
Twelve years ago, she broke time. Two alternate timelines exist, each with a different version of Twilight Sparkle. Both versions of her are able to see the other. In this timeline, Sparkle is a Necromancer.
Or rather, she was. Sparkle is dead now, not that she cares. She's got a new body. With Thorn (her undead dragon son) and Cobalt (her apprentice and an assassin for hire) at her side, she's ready to take on the world. Again.
(Spoilers in the comments. Read at your own risk.)
---
Featured on EQD.
The Tv Tropes page
The Ask Blog
---
This story is a sequel to Split Second and won't make sense without it.
This story also loosely shares continuity with Lupine Tree. Reading that is not required.
---
Cover art by Swirling Line.
Chapters (25)