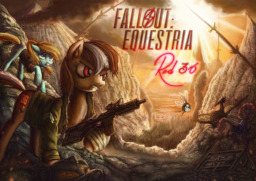 In the months that followed the Day of Sunshine and Rainbows, groups who backed the Stable Dweller allied together in spite of their differences to help create a brighter future for Equestria. New Canterlot now stands as a beacon of light and civilization for the rest of the wasteland.
Meanwhile, a born wastelander named Roulette, still rocked by the havoc of the events of Operation Cauterize, must come to terms with the bitter realities of what happened that day. She remembers the days before the Sun and contemplates her life in a changing wasteland. For a mare who lost everything, she can only hope to make something of herself in this 'new' wasteland and be like the hero she admired in her foalhood.
Her travels take her to the Outpost 52 on the border of now civilized New Canterlot territory for a bitter reunion with an old friend, but when her foalhood hero's name comes calling again, it brings up painful memories and questions from her wasteland days. What's a wasteland mare to do? 
Sometimes you have to take a gamble...
---
A Fallout Equestria Side Story
Original FO:E by Kkat
Edited by: Aezaelia
Past Editors: BasicJasioh, Relentless, Shady
Cover art by Jowy
Font by Calistomaniac
Chapters (14)