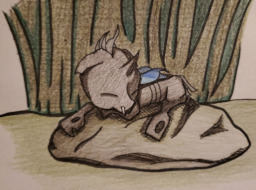 Cadance meets a very sleepy changeling. Knowing the changeling is in no state to really do anything, she decides to show it some love.
Some rather... cuddleful love~
Written in a few hours while running on two hours of sleep myself so if there are errors, there's your answer.
Thank you to Notowa for making the cover! I honestly didn't think I'd use any cover but yay.
---
For some reason featured on 5/3/2022... and also 5/4/2022
Chapters (1)