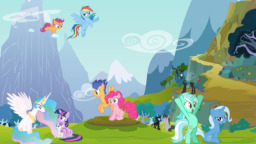 Ever wonder what characters are doing when they're not in the spotlight?
They're certainly glad you never knew.
Unfortunately for them, stories of their lives have come to light.
---
Defunct side stories to the Seeking Power series.
---
A forewarning, each short story may contain spoilers for the main series. Although they are arranged in chronological order, they are written in an arbitrary order and out of sync with the main story. It is possible that reading a story can reveal information that isn't given until much later in the main series. Such stories will have a warning at the top listing the chapter at which spoilers are no longer in effect.
---
Art created from various sources. A full list of links is available here.
Chapters (9)